Founder and Owner of Spices of Life Gift Co.
Q. Tell us a little about yourself & your background in the arts & crafts world?
A. Hi! My name is Kat (just so you don't have to do the math, yes my name is Kat Furr and you are allowed to laugh ☺). I am the owner of Spices of Life Gift Co. on Tennyson, going on 2 years. We carry almost 100% made in America items, with more than half being from local artists. I am also the owner and designer of my wire craft business, First Comes Love. I started my wire company after getting involved in some DIY crafts for our wedding (almost 5 years ago!). One of the projects was creating wire place card holders, which also doubled as a favor for guests to bring home and use as a photo holder. I realized after all was said and done, that I enjoyed creating them quite a bit and since I had leftover materials, I kept on playing and it became what it is today. I began to have appreciation and respect for handmade items and the time and love that goes into the process. I started to realize how important it was to support this movement and the individuals behind the scenes. Thus, my dream of owning a "made in America" shop was born!
Q. What/who is your biggest inspiration?
A. Besides my amazing husband, Nate, I would have to say my customers are a big inspiration for me. I have always gotten so excited to see what reviews people leave for me at my online shop and the stories they would tell me of what gift they were giving or who they were making smile with something I created! It is always very touching and appreciated and I knew I wanted to carry that customer service over to the brick and mortar shop. Sure enough, seeing my customers and their smiling faces is what gets me through.
Q. How did you get into your position in the arts & crafts world?
A. Well, there is no beating around the bush here...I got fired from my marketing job of 5 years and knew that it was meant to be. I was let go on a Friday and went to work for myself full time on Monday without looking back. I could not question what I had been asking the universe for, 10 months later, we opened the doors to Spices of Life Gift Co.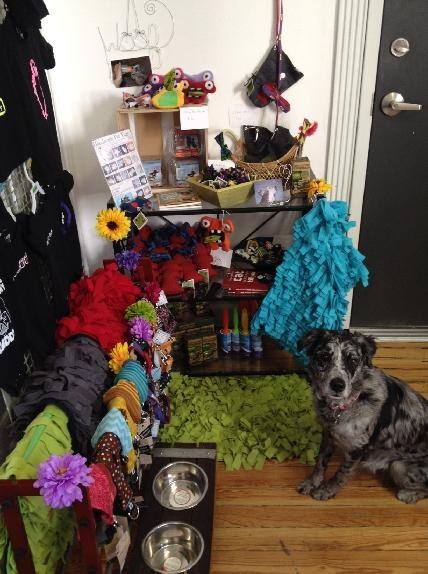 Q. Tell us about a few favorites of yours: Weekend Activity/Color/Animal?
A. Some favorite weekend activities (now that I actually have weekends again!!) are definitely spending time with loved ones; my husband and our dog, Scarlett, and of course, dear friends. We love to hike, camp, see live music and all of the amazing things Denver has to offer. Favorite food: anything involving cheese and/or potatoes. Color: I really could not say ;) Animal: dog, to be boring.
Q. What do you love most about the handmade movement?
A. What I love most about the handmade movement is being able to support these extremely small businesses, most of which are a 1-man/woman show and knowing and hearing how important our support is to them and their families. Of course, having one of a kind, unique items is pretty awesome and just seeing what ideas and creations people come up with is always astonishing to me!
Q. What is the most important feature in an artist's application for you?
A. Most importantly, uniqueness as well as great craftsmanship and presentation. It should be fun and hopefully be able to portray the passion that artist has for his/her work!
Q. What are you most looking forward to in being a part of the Jackalope Arts jury?
A. I'm just so excited to learn about new local artists and the passions behind the names and products. I am honored to be a part of the selection process and can't wait to see what connections it might bring my way.
Q. Where can we find out more about you?
A. I would love to see your friendly faces at our shop anytime, located in the ever evolving Berkeley neighborhood at 3867 Tennyson. Otherwise, you can find us online!
Visit the shop Facebook page HeRe!
Follow us on Instagram hERe!
Our Spices of Life website is HEre and my Etsy shop is hErE!